The wedding of Ranbir Kapoor and Alia Bhatt is one of the most awaited grand weddings in Bollywood. The wedding ceremonies of Ranbir and Alia have started. Alia and Ranbir are going to tie the knot this week. Before the rituals began, a pooja was performed in the memory of Rishi Kapoor at Ranbir Kapoor's house. Apart from this, Ranbir and Alia's Mehndi Serem will also take place today. The Kapoor family and close friends have started reaching RK House for the wedding function. Neetu Kapoor arrived home with daughter Riddhima Kapoor and granddaughter Samara Sahni to attend the puja.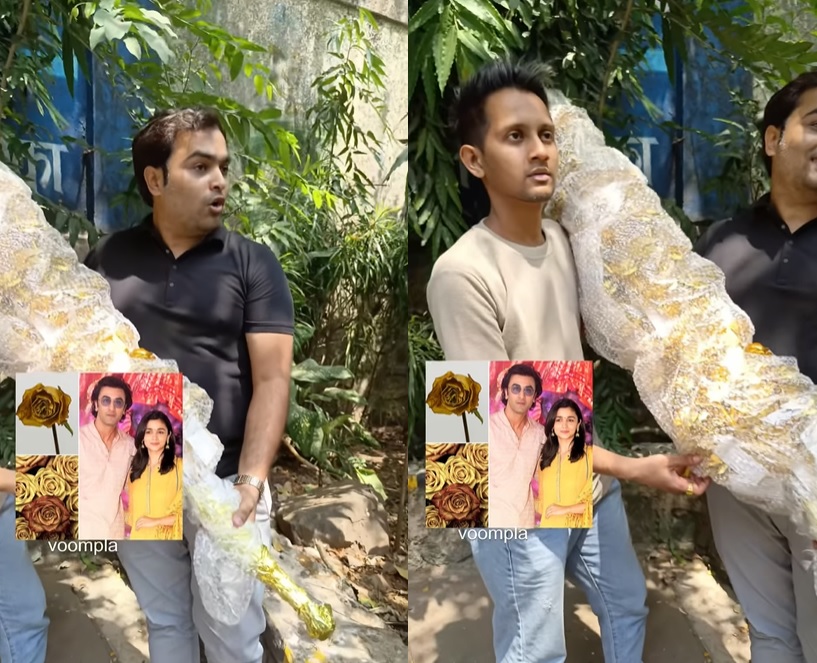 Apart from this, several celebs including Ranbir Kapoor's sisters Kareena Kapoor and Karisma Kapoor as well as his special friend Ayan Mukherjee have arrived at the wedding venue. Many of the videos, meanwhile, were captured on camera by paparazzi and went viral on social media. In the midst of all this, a very nice video came up, in which it can be seen that two boys are standing with gold plated roses.
They are saying, this is gold plated rose and this is 100% real. They are being asked, where did you come from? The boys say that they are from Surat. He is saying that his name is Ronak and the one who sent this is Kushalbhai Jewelers from Surat. This video is really beautiful and the gift that is Gold Plated Rose is very beautiful and captivating to the mind.
Speaking of Alia and Ranbir's wedding, veteran filmmaker Karan Johar has also reached RK House to attend Ranbir Kapoor and Alia Bhatt's Mehndi Ceremony. Ayan Mukherjee and Karan Johar are two names whose participation in the marriage was considered certain. The decoration of Alia Bhatt's house has also been completed and meanwhile news is coming that Alia Bhatt and Ranbir Kapoor will officially announce their marriage today. It is learned that the couple's wedding may be officially announced on social media today.

Online Buy 30% Off Any Product Any Category